Ten Gold Investment Tips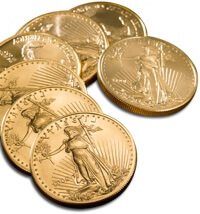 In the last couple of years there has been a significant increase in gold investments. Such interest has come about as a result of the sharp increase in value which gold has experienced, along with the shaky foundation of financial systems worldwide. This increase in value, when combined with the fact that gold has traditionally served as a safe haven investment and a hedge against inflation, makes gold an excellent investment to consider. As is the case when looking at any investment option, there are a few things that should be kept in mind in order to make sure your investment remains as safe as possible.
Compare Gold Prices
If you are investing in physical gold, through gold bullion coins or gold bullion bars, make sure that you shop around and compare prices, including delivery prices. Take the time to do some research to make sure that you find the best prices for the type of gold that you are considering investing in; whether that is gold bars or gold bullion. Each dealer adds a markup and they may differ from one another.
Don't find Fool's Gold
[advice-ad1]
We have all heard the expression, fool's gold. This term was traditionally used to describe a type of sediment rock that highly resembled gold but was not in actuality gold. During the Gold Rush, far too many people were fooled into thinking yellow rocks were the real thing. The gold rush of the 19th century may have passed, but it is still important to make certain that you are investing in the safest gold investment. There are plenty of scams out there, offering you gold at price less than the spot good price. That's obviously a scam, so steer clear. Then, there are "investments" that are nothing more than shell companies out to take your money. Some are offered to you via telemarketing. Some are actually publicly traded companies, usually gold mining companies, usually traded on the Canadian Stock Exchange or other non-US exchanges as "junior miners." While the vast majority of these gold mining stocks are perfectly on the up and up, some are not; but at the very least, most are are extremely risky, often penny stocks. Stick to the major gold mining stocks, as there are plenty to choose from. There are also gold funds that invest in up to dozens of gold mining stocks, which diversifies your risks. Exchange Traded Funds (ETF's) are an easy way to invest in gold, and can be purchased like a stock, and follow the price of gold. The problem is that some of the ETF's do not track the price properly. Stick with the major ones such as the GLD. A legitimate stock broker can help you with this, but you can do your own homework by comparing the average daily volume of the various ETF's, and pick the one with the highest volume.
Compare Various Gold Investment Products
You have many options to select from when choosing to invest in gold. The first thing to decide upon is if you wish to physically own the gold, or simply invest in stocks, mutual funds or ETF's that roughly mirror the price of gold. If you think the financial system is so precarious that major financial institutions could collapse, then you might want to hide physical gold in your home, or stash it in a safety deposit box. If you choose to own physical gold, you can choose between gold bullion or gold coins. Steer clear of gold coins unless you are a coin collector and fully understand the market. The best choice is gold bullion, which is a gold "coin" or bar minted by governments around the world, and can actually be used as legal tender. With either, you are basically paying the spot price of gold, plus a small fee. There are also "gold rounds" that are less than an ounce. These also are close to the spot price of gold, not collector coins, are not legal tender and offer no face value.
If you prefer to not hold physical gold, then a "paper" investment is better. These are described in the previous point, but keep one thing in mind: gold mining stocks, and thus any fund or ETF that tries to mirror underlying gold mining companies, are much more volatile than ones that mirror the price of gold. The underlying companies are leveraged to the price of gold, and move faster, in both directions, than the spot price of gold.
Only Buy Numismatic Coins if you Want to Collect Them
There is often a lot of confusion over numismatic gold coins. Numismatic coins can include gold coins that are very rare as well as shipwreck coins and graded coins. The problem with these coins is that they carry a value that is higher than the spot price of gold — often considerably higher — because of their collector's value. If you are primarily investing for the purpose of gaining the most gold possible for your money, numismatic coins may not be the best option for you. These coins should really only be purchased if you are an sophisticated collector and know what you are doing.
Purchase Varying Gold Denominations if you buy Gold Bullion
From big fat bars intended for the wealthy with secure safes, to small gold rounds that feel like pocket change, gold coins are available in different denominations or face value amounts. On the more affordable end you can purchase numerous types of gold coins in the 1/10 ounce as well as ¼ ounce, ½ ounce or a 1 ounce. But why not just buy one ounce gold bullion? It's really for a worst case scenario type of situation. If the financial system collapses, you can always barter for goods with your smaller denominated gold coins. If you just need to fill up your tank with gas, and only have a $1500 ounce of gold piece, you've got a problem.
Diversify
An excellent tip for any type of investment is to make sure that you diversify. That remains true when you invest in gold. It's never a good idea to purchase just the same type of gold coins, such as the American Gold Eagles, because it can be difficult to know which one will have a higher premium when you are ready to sell. And if you have enough funds, you should also diversify into gold stocks, funds or ETF's. If you are investing in gold mining stocks, make sure you pick at least five stocks to spread your risk. A single gold ETF or gold fund is fine though, because by definition they are diversified. And speaking of diversification, most all financial advisors recommend having only a small portion of your investment portfolio in gold, usually 5-10%. That goes for any category of investment, by the way.
Understand Gold Content
Always make sure that you have a solid understanding of gold content and do not overlook checking the stamp to determine whether it is 14K, 10K or something else. This is something you should know before both buying and selling. As with any aspect of buying gold, using a reputable gold broker your trust will help you to understand all this.
Take Delivery of your gold
Never make the mistake of having your gold stored for you for an additional fee by the dealer. Take actual delivery and physical possession of your gold. If you are not secure about hiding it in your home, rent a safe deposit box at your local bank.
Only buy as a long term strategy
Unless you are a trader — and you would not be reading this basic article if you were — don't speculate with gold investing on a short term basis with money you may need in the near future. Too many geopolitical and financial events can influence the short term price of gold, and if you need to cash it in while it's down, you will have no choice but to take a loss. You should only invest as a long term strategy to diversify your portfolio of investments.
Keep it to Yourself
If you are holding physical gold, whether it be under your bed, beneath your garden, or in a safe deposit box, mum should be the word. Other than immediate family, you should not spread the word that you there is gold that can either be stolen from you, or forced or blackmailed from you.
Investing in gold is an excellent idea, AFTER you have taken the time to educate yourself and understand and follow some basic precautions like the ones presented above.